Motorized mobile height and tilt adjustable monitor stand, 70 cm of vertical travel
column black anodized, anti-collision, C-style base (lowered)
---
Item number: SCETTACR35BK
Product description
Motorized height & tilt adjustable mobile monitor stand providing extended 70 cm vertical travel.

Small group learning activities require for flexible interactive solutions. The Conen Mounts height & tilt adjustable monitor stands are height adjustable to accommodate children of various heights or those in wheelchairs. The "SCETTACR35BK" features the 3-tier column, which provides an extended 70 cm of vertical travel, making it the perfect solution for K-12 or special needs applications. It provides minimum clearance for small children or those in wheelchair to access the display and maximum clearance for the teacher to present.

Product ships flat-packed. Cartons are courier shippable.
Features
Mobile monitor stand with motorized height and tilt adjustment 70 cm of motorized height adjustment, actuator 1500N, 47 mm/ 1.85" per second
Tilt feature to position the display in any tilted position between 0 and 90 degrees
Robust C-style base designed to withstand intensive daily use With anti-collision function
Compatible with 42" - 75" flat panels with max. VESA 800x600
Wired remote is standard included
Display mount for 42" to 100" displays for table systems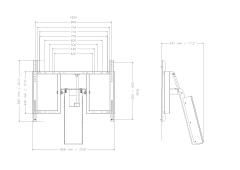 This frame accommodates 42 to 100 inch monitors. The sturdy construction consists of 2 mm powder coated steel. Power strips can be mounted on the frame and, thanks to the cable management, no cables hang down on the system.
Remote control of height und tilt adjustment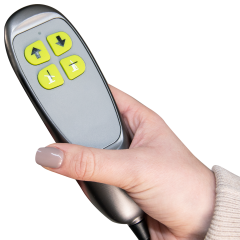 The electrically height adjustable & tiltable display & monitor stands come standard with a wired remote control. With two buttons, the display stand can gently be raised and lowered. Controlled movements protect the sensitive touch screen displays. Two additional buttons control the slope of the system.
C-mobile stand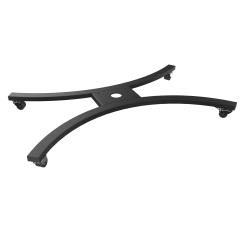 Our black C chassis has 4 smooth castors, two of which are lockable to fix the tv cart & mobile monitor stand in place. Due to the special C shape even wheelchair users can approach very close to the display.