Electrically height-adjustable mount for interactive whiteboards
for wall mounting, with side wings and floor plate
---
Item number: SCETAWWPIWB.
Product description
The number of interactive whiteboards in classrooms has risen steadily over the last few years. As a manufacturer of boards, school and classroom furniture, we have been offering very functional "state of the art" height adjustment systems for years. Durable, high quality, and extremely functional.

We offer electrically height-adjustable mounts for interactive whiteboards of all brands. For this purpose, we offer projectors mounts for all available interactive projectors on the market.

The central, electrically height-adjustable aluminum column consists of 2 telescopic columns. The motor is integrated. Advantages of the electric height adjustment: Longer service life for expensive projector lamps and the projector itself. Because the movements are always controlled and uniform - this protects the expensive equipment. With 2 buttons you can set the interactive whiteboard for each user to the ergonomically perfect working height.

The included side wings offer additional writing and presentation space and are writable with whiteboard markers & dry wipeable. The frames of the wings are black anodised.
Features
Please specify the model of the interactive whiteboard and the projector when ordering
Electrically height-adjustable system with central, telescopic pylons
With 0.8 cm thick floor plate, RAL 9006 white aluminum
2 side wings, magnetic, writable with whiteboard markers
Dry wipeable
Remote control of height adjustment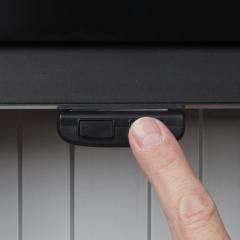 The electrically height-adjustable display & monitor stands come standard with a wired remote control. With two buttons, the display stand can gently be raised and lowered. Controlled movements protect the sensitive touch screen displays.