Mobile tiltable whiteboard workITdesk for Eiki projectors
1.44 x 0.90 m, electrically height & tilt adjustable mount, H-style base
---
Item number: SCETTIHMPO
Product description
The workITdesk has a white table top with a dry erase and magnetic projection surface. The whiteboard is compatible with virtually any ultra short throw interactive projector. The unit offers a smooth and safe 50 cm vertical travel and 0 – 90° tilt adjustment of surface and projector. Retracted the workITdesk fits through a standard doorway with the projector still connected. The workITdesk is the ideal solution for schools that are looking for mobile, customized interactivity.

No more annoying white borders! The projection surface of the whiteboard is an extraordinary W/H: 1,44 x 0,90 m. With a format of 16:10 of the projector the central surface is completely illuminated. Use 100 % of your projector performance! The silver frame around the projection-optimised central surface ensures the best possible contrast and a pin-sharp image.

The whiteboard can be height-adjusted electrically in both board and table mode and tilted up to 90 degrees. So the system can be used as a touch screen table. You can stop the whiteboard at any angle.

The stable chassis has 4 heavy duty castors, 2 of which are lockable to fix the whiteboard in the desired location.
Features
For use with Eiki projectors
Electrically height adjustable mobile whiteboard
With silver frame and board surface in the format 1,44 x 0,90 m
workITdesk, for use as touch screen table
Central surface magnetic, can be written on and dry wiped
Whiteboard for use with pen-operable interactive projectors
Robust H-style base designed to withstand intensive daily use
Remote control of height und tilt adjustment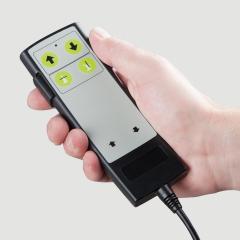 The electrically height adjustable & tiltable display & monitor stands come standard with a wired remote control. With two buttons, the display stand can gently be raised and lowered. Controlled movements protect the sensitive touch screen displays. Two additional buttons control the slope of the system.
H-mobile stand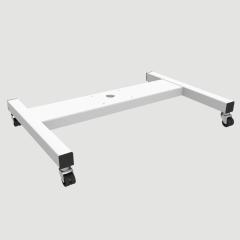 Our white H chassis has 4 smooth castors, two of which are lockable to fix the tv cart & mobile monitor stand in place. Due to the special H shape even wheelchair users can approach very close to the display.