Monitor stand and monitor wall mount, center of display 192 cm
column silver anodized, fixed height, floor plate
---
Item number: SCETANHVP17
Product description
Fixed height monitor stand for 42"-100" touch screen displays.

For applications that do not necessarily require height adjustment or where price is key, Conen Mounts offers a series of fixed height solutions. The monitor stands feature a sturdy aluminum center column that comes in different heights. Mounted atop the center column is the display mount which allows for cables to be stowed away neatly behind the touch screen display.

A 0.3" thick, solid steel plate secures to the center column. Designed for static, freestanding applications or to add stability to wall mount systems, secured to e.g. a stud wall. The floor plate features cut-outs/ handles for easy transportation. It comes powder coated in grey aluminum.

The unit comes flat-packed in 3 cartons and is courier-shippable.
Features
Entry model, fixed height monitor stand
Mount with integrated VESA pattern, max. 800 x 600
Mount allows for cables to be neatly stowed behind the display
Safe and stylish design: with the stylish aluminum center column supporting the weight of the display
Comes standard with the floor plate and 2 wall mount brackets for secure mounting to the wall
Display mount for 42" to 100" displays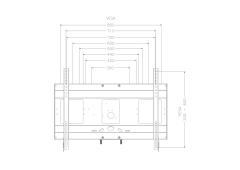 This frame accommodates 42 to 100 inch monitors. The sturdy construction consists of 2 mm powder coated steel. Power strips can be mounted on the frame and, thanks to the cable management, no cables hang down on the system.
Quick snap lock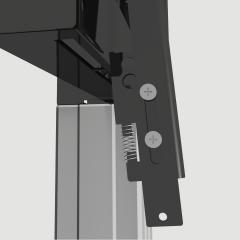 With the new innovative quick snap locks the monitors can simply be hung in place on the monitor wall mount. This makes the assembly easy and fast. In addition, the monitor can be secured against theft with a standard pad lock.
8 mm strong floor plate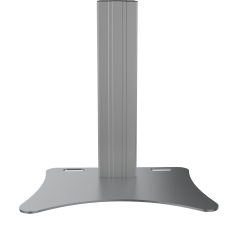 The 8 mm strong base plate allows the mounting of our monitor mounts on lightweight walls or a freestanding installation in the room. The weight of the monitor is transmitted through the column to the floor plate and thus to the floor, maximizing stability.