Whiteboard deluxe 130 board for Eiki projectors
3.00 x 1.30 m, electric height adjustable, for wall mounting with floor plate
---
Item number: EMP3013PO
Product description
Electrically height-adjustable interactive board systems

Our electrically height-adjustable whiteboard deluxe 130 boards are wall-mounted and, thanks to the floor plate, also suitable for lightweight wall mounting. The adjustable center column consists of 2 telescopic aluminum profiles into which the motor is integrated. Advantage of the electric height adjustment: Increasing the life of the projector lamp and the projector itself, because controlled movement protects expensive technology. Two buttons on the system allow the whiteboard to be electrically adjusted to the appropriate height for each user.

The projection surface is matt white, writable with whiteboard markers and can be wiped dry. In addition, the center area of ​​the whiteboard is magnetic. The black anodized frame provides a good contrast and has safety corner caps. Due to the whiteboards width of 3,00 meters, there is enough space for posters and notes! The arrangement of the projection is possible right- or left-aligned. Please indicate this when ordering.

The extra-wide aluminum design projector arm ensures maximum stability. A hidden and proper cable routing inside the projector arm does not hang cables down the whiteboard.
Features
For use with Eiki projectors
Whiteboard deluxe 130 board 3,00 x 1,30 m
Arrangement of the projection right- or left-aligned. Please specify when ordering!
Working with pens - integrate different pen operable interactive projectors
Magnetic whiteboard, writable with whiteboard markers and dry wipeable
Remote control of height adjustment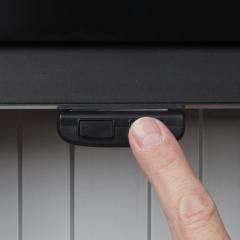 The electrically height-adjustable display & monitor stands come standard with a wired remote control. With two buttons, the display stand can gently be raised and lowered. Controlled movements protect the sensitive touch screen displays.