Whiteboard in Cloudboard design for Nec projectors
2,07 x 1,30 m, electrically height adjustable mount for wall mounting, floor plate
---
Item number: ENECLOUDPO
Product description
The height adjustable interactive board system

Our electrically height adjustable interactive classroom whiteboards are suitable for all walls. The adjustable pylon consists of two telescopic aluminum profiles into which the motor is integrated. With two buttons on the systems, the board system can be adjusted to the height that suits each user. Advantage of the electrical height adjustment: Longer projector light lifespan and longer life of the projector itself, as controlled movement protects expensive technology.

No more annoying white borders! The projection surface of the whiteboard is an extraordinary W/H: 2,07 x 1,30 m. With a format of 16:10 of the projector the central surface is completely illuminated. Use 100 % of your projector performance! The black frame around the projection-optimised central surface ensures the best possible contrast and a pin-sharp image.
Features
For use with Nec projectors
Electrically height adjustable system with pylon column for floor and wall mounting
With black frame and board surface in the format 2,07 x 1,30 m
Position of the projection middle-aligned like in the image
Central surface magnetic, can be written on and dry wiped
Whiteboard for use with interactive projectors with or without fingertouch-module
Remote control of height adjustment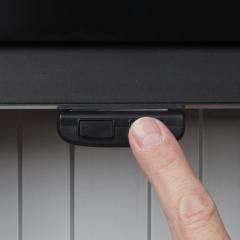 The electrically height-adjustable display & monitor stands come standard with a wired remote control. With two buttons, the display stand can gently be raised and lowered. Controlled movements protect the sensitive touch screen displays.